Indoor Meetings & Field Trips
Coronavirus Update
Dear Member,
Following the Prime Minister's announcement earlier this week, the SBSG Committee has taken the decision to cancel the April and May indoor meetings on account of the coronavirus outbreak.
Given the gravity of the current situation and the strict advice on social distancing, this will also result in the cancellation of the forthcoming field trips to Orgreave Lakes in late April and the traditional visit to Padley Gorge in early May. Please accept our apologies in advance for any disappointment this may cause.
Whilst we still hope to stage the annual crepuscular visit to Redmires in June, it is likely this will befall a similar fate, so please keep an eye on the SBSG website nearer the time for further details. This also applies to our next scheduled indoor meeting on Wednesday 9th September.
During this unprecedented time, it has perhaps never been more important for the SBSG family to support each other through this challenging period. Please consider contacting any fellow members who live on their own or who may be confined to home due to underlying health conditions. Likewise, if you're struggling in isolation, please do get in touch via email or social media – remember, you're not alone!
Whilst I'm happy to leave debates on the erosion of the welfare state in pursuit of lower taxes, the relentless economic growth at the expense of the natural world and Churchillian soundbites to others, here's ten handy ideas on how the good old SBSG might help you through the coming weeks and months of enforced personal reflection:
Go birding locally
The health benefits of connecting with the natural world have never been clearer, with some GP's now actively prescribing birdwatching as a means of reducing stress and combatting mental health issues.
With exercise still rightly deemed as a necessary requirement despite the current restrictions, why not combine your daily fitness regime with birding inside the Sheffield area and submitting your sightings to the SBSG website? – in the spirit of social distancing, why not avoid well-watched localities and visit an old haunt, obscure locality or pick an under-watched and remote site from an old SBSG annual report?
Who knows what rare birds lurk out there if you think outside the box a little?
Record local bird movements from your bedroom window or garden
Fool your neighbours into thinking you are checking up on their toilet roll consumption by setting up an observation post from an upstairs window or suitable vantage point in your garden. Unlike satsuma-faced populists, birds do not conform to arbitrary man-made boundaries and many migrants can often be tracked over urban areas as they make their way to and from their breeding grounds. The Sheffield area is no exception, with wildfowl, raptors, waders and migratory passerines all regular reported within the pages of our annual report. Once again, please submit your records via the SBSG website and contribute to local ornithology during these historic times.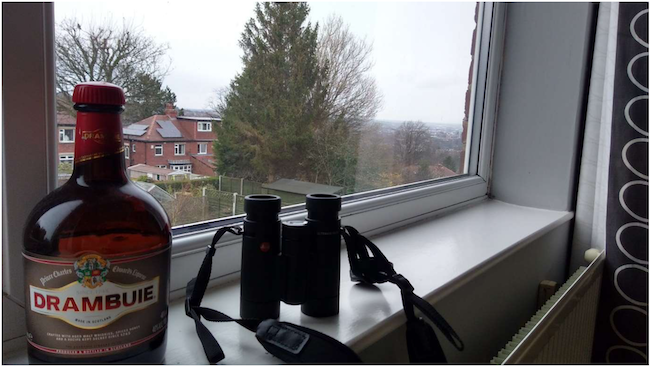 Upstairs observation post – with distant breeding Carrion Crow Corvus corone (Richard Hill)
3. Study your garden breeding birds
Birds are all around us. From my own window, I can observe breeding House Sparrow, Starling, Blackbird, Wren, Robin, Coal Tit, Collared Dove, Magpie and Carrion Crow to name but a few. Whilst familiar common species grace our bird tables during the winter months, why not try and observe their behaviour more closely as we now head into breeding season. The BTO is always looking for volunteers of its Nest Record Scheme and once you know about the private lives of Dunnocks, you'll be glued to your binoculars!
4. Make or buy a Swift nest box
Swifts are in trouble – these magnificent urban birds need our help, so maybe take the current hiatus to make, order and erect a Swift nest box, although please be careful with those ladders! More details can be found at Swift Conservation at https://swift-conservation.org/
5. Take up nocturnal bird recording
The SBSG is currently looking to improve its recording effort with a particular focus on technology and nocturnal birds. Why not combine the two and become part of our future plan to co-ordinate nocturnal recording over the SBSG area?
The popularity of 'nocmig' has increased considerably in recent years, and all being well, the BTO's Dr Simon Gillings is due to come and talk to us on this subject later in the year. In the meantime, if you are interested in getting involved with this project, please view the nocmig website at www.nocmig.com or read Simon's recent article available on the Birdguides website:
https://www.birdguides.com/articles/general-birding/birding-while-you-sleep-how-to-get-started-with-noc-mig/
6. Visit the Sheffield Peregrines webcam
Keep up to date with the University of Sheffield's Peregrine webcam on St George's church, where you can enjoy the trials and tribulations of Sheffield's majestic urban falcons from the comfort of your own home. See www.sbsg.org for details.
8. Read through old SBSG annual reports and e-newsletters
These are available from the Members' Area of the SBSG website in pdf form and provide a wealth of information on the history of Sheffield's birds and its observers.
9. Download the new e-book version of the SBSG Breeding Atlas
A kindle version of the sold-out print version is now available via the Amazon website. Details of this new development are available in the latest e-newsletter which is only £1.99 and viewable on most devices. Alternatively visit www.amazon.co.uk
10. Read Birds in a Cage by Derek Niemann
If you think things are bad now, then please consider reading this inspiring book on how enforced confinement didn't stop a group of WW II prisoners of war becoming legends of ornithology and conservation. John Buxton's study of the Common Redstart alone should be an inspiration to us all given our relative comfortable existence. A fine review of this book was provided by Pete Brown in the September 2019 e-newsletter.
Well, back to the window for me. I hope these ideas are of some help and I look forward to welcoming you all back to the SBSG fold safe and well at some point during the autumn.
Take care.
With best birding wishes,
Richard Hill
Chair – Sheffield Bird Study Group
---