Welcome to the SBSG website
Sheffield Bird Study Group was formed in December 1972 as a forum for birdwatchers in and around the city with an active interest in ornithology. The group's recording area, covering twelve 10km squares with the city roughly in the middle, is hugely diverse, stretching north to the outskirts of Barnsley, south to Chesterfield, east to the lowlands beyond Rotherham and Bolsover, and west to the highest tops of the Peak District National Park.
We aim to promote an interest in birds in the community, provide something of interest to all levels of birder, co-ordinate fieldwork and recording in the area, and work with and complement the work of like-minded local and national organisations for the benefit of birds. SBSG is registered charity No 510857. Click here for more.
Diary Dates
Sheffield and Rotherham Wildlife Trust Blacka Moor volunteer work day
Thurs 21st March
The remaining March volunteer day will be on Thursday 21st March when there will be some general trimming back. Please remember to bring your lunch, water, sturdy boots and waterproofs.
Tools and gloves are provided, but please wear warm, waterproof clothing, and sturdy footwear, bring a packed lunch and drinking water. We will be meeting in the usual place, Stony Ridge Car Park car park (SK 29581 80251) at 10am.
---
Saturday 23 March 2019
BTO Yorkshire Birdwatchers' Conference 2019
9.15am to 5pm, Ron Cooke Hub, University of York, Deramore Lane, York, YO10 5GE
You are invited to join us for this one-day BTO Regional Conference. This is a popular event, so don't leave it too late to book your place!
The programme includes talks from Tim Birkhead plus local speakers and staff from the BTO. Tickets cost £25 and include coffee, tea and buffet lunch. The full programme and location details are available here.
You can book your conference place either online, by post with a booking form or by phoning the Supporter Team (Mon-Fri) on 01842 750050.
---
Wednesday 10th April - 7.15pm
Indoor Meeting
Richard Baines - Yorkshire Turtle Dove Project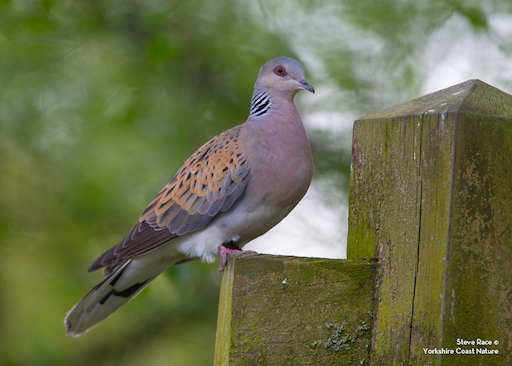 The North Yorkshire Turtle Dove Project funded by Heritage Lottery, North York Moors National Park, Forestry Commission and Howardian Hills AONB in partnership with RSPB, Scarborough Borough Council, and North and East Yorkshire Ecological Data Centre aims to help Turtle Doves return from the brink of extinction in the north of England.
Project Aims
Provide advice, training, support and small-scale capital work.

Train farmer advocates cascading knowledge about how farmers can facilitate Turtle Dove conservation.

Recruit volunteers to conduct surveys through a range of partners and media.

Deliver talks and guided walks for local residents, schools and community groups.

Create publicity and display material at key locations such as Sutton Bank NP Visitor Centre.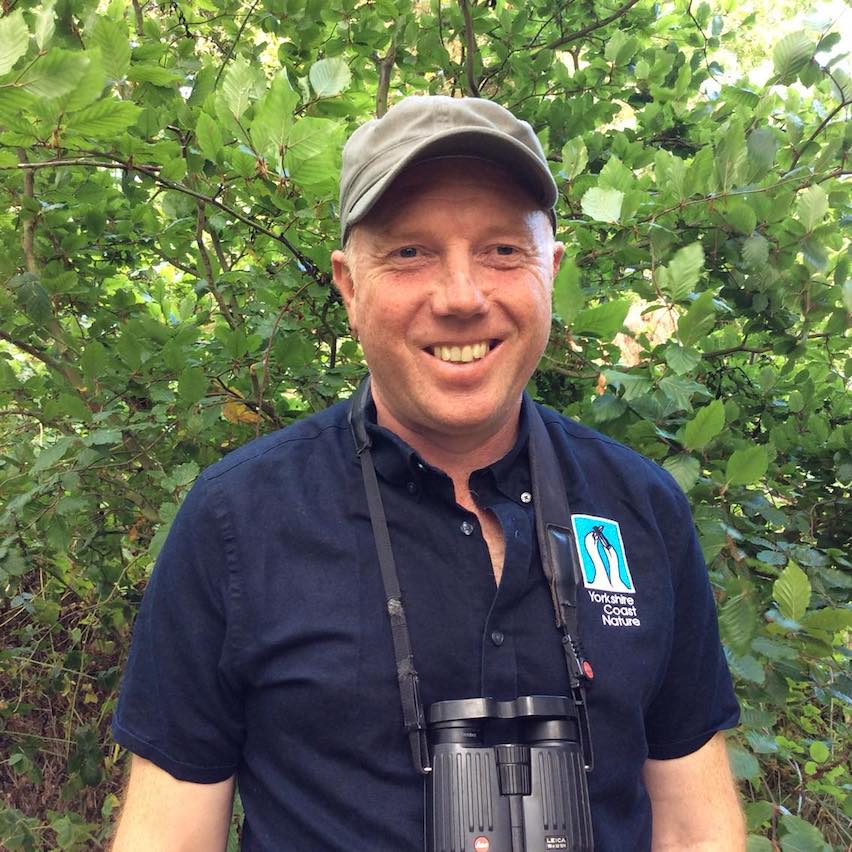 Richard Baines works as the part time Turtle Dove Project Officer. The project is now in its second year and has achieved many things including the formation of a new grant specifically for these birds. Richard will explain the background to the project, ecology of this beautiful bird, conservation achievements and how we can all help Turtle Doves.
Venue - Sheffield University Hicks Building, Lecture Theatre 5 and the meeting will commence at 7.15pm
---
News
Ring Ouzel Monitoring - call for Volunteers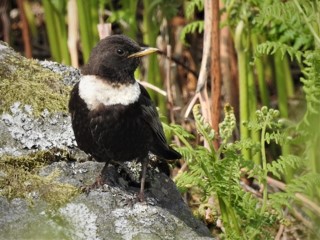 We are rightly proud of our local Ring Ouzel population and going back to perhaps 2002 we have worked with the climbing fraternity to protect them on Stanage and Burbage. This started with Chris Falshaw and Bill Gordon . Now Kim Leyland working for the Eastern Moors partnership has spent the last two years doing solid work on the breeding success of these iconic Peak District birds.
At the last indoor meeting several people volunteered to help out with this years monitoring tasks.
If anyone else is interested these are the categories of work that Kim broadly has in mind

1. Nest monitoring.
This was the first way we got more volunteers involved. Undertaking one nestwatch per week for four weeks to monitor a known nest for activity. Good for people with no prior experience of any surveying or nest monitoring.

2. Nest finding.
Observing and recording ouzels looking for signs of breeding and identifying nest locations. Doesn't necessarily require a greater time commitment, but generally more successful the more time you put in! Last year more vols with experience of Ring Ouzel behaviour got involved with this.

3. Surveying.
On the Eastern Moors we carry out ouzel surveys (walking a transect and recording breeding behaviour, much like a BTO survey) separate to nest monitoring. Not as good for specifically locating nests, however they're a pretty good way of establishing where the ouzels are over a wider area (and will provide long term data). If any volunteers were keen for this (it would be three visits, one per month April-June) we could extend the area we cover over Stanage (and elsewhere e.g. Derwent etc.).

In reality the volunteers do a mixture of the above depending on the time they have, and what the birds are up to. It's very flexible. We've had a mix of volunteers from those with no birding experience whatsoever to seasoned birders, and both climbers and hillwalkers.

Kim will attend our indoor meeting in March . There will be an introductory session at Barbrook Cottage in April.
Neil Porter
---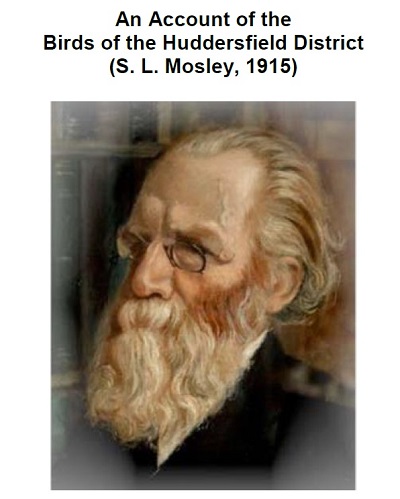 An account of the Birds of the Huddersfield District was written in 1915 by Huddersfield man Seth Lister Mosley and is one of the most important books in the history of local and national ornithology. However, it is very rare and little known outside specialist circles, but is full of interest for a present day public. Now Huddersfield Birdwatchers' Club brings it to life again in digital form for the benefit of a modern day audience. And it is available to download free of charge here.
The HBC recording area starts at the SBSG's northern border, with Langsett Resr being shared between us, so this publication is of great interest to local ornithologists and gives a fascinating insight into bird population changes over the last century.
---
Membership
Good news for younger members
Free membership is now available for persons under the age of 25. The age limit was previously 22. And it's available regardless of whether you're in full time education or not. Existing members should by now have received revised membership certificates from Martin Hodgson, the Membership Secretary. If you haven't but you think you ought to have, or if you are a paying member who now qualifies for free membership, please contact him at This email address is being protected from spambots. You need JavaScript enabled to view it.
---
Help Sheffield University and SBSG support the Sheffield Peregrines
With your help we can provide more opportunities for people to learn more about these amazing birds as well as carry out important research. You can support the Sheffield Peregrines Project by donating through the Virgin Money Giving page.
Click on this link to learn more about the plans for the project and to donate: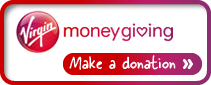 ---
EU General Data Protection Regulation
As you may know, the EU General Data Protection Regulation comes into force on May 25th. To ensure that SBSG conforms to this regulation, we have reviewed the ways in which the Group holds personal data in connection with our membership, and have agreed a data protection policy. If you have concerns about the data that SBSG holds in relation to your membership, or the ways in which that is held and managed, please contact the membership secretary, This email address is being protected from spambots. You need JavaScript enabled to view it.. In particular we identified the holding of your telephone number as desirable but not necessary. If you would like it to be deleted from your record, please contact Martin. We will assume that if you do not contact Martin on this front you are happy for your details to be held by the Group and used to manage your membership in the ways outlined in the policy.' Details of our policy can be found at the top of the page.
---
Appeal for legal challenge on behalf of Hen Harriers
An appeal from Mark Avery to raise funds for a judicial review with full details here.
"Instead of tackling the key issue of criminality, Michael Gove's Department for the Environment (DEFRA) has proposed something called 'brood management' which involves removing chicks from nests near grouse moors. That might help grouse moor owners but it won't help Hen Harriers".
---
Membership
Good news for younger members
Free membership is now available for persons under the age of 25. The age limit was previously 22. And it's available regardless of whether you're in full time education or not. Existing members should by now have received revised membership certificates from Martin Hodgson, the Membership Secretary. If you haven't but you think you ought to have, or if you are a paying member who now qualifies for free membership, please contact him at This email address is being protected from spambots. You need JavaScript enabled to view it.